Series Preview: Milwaukee Brewers vs. Chicago Cubs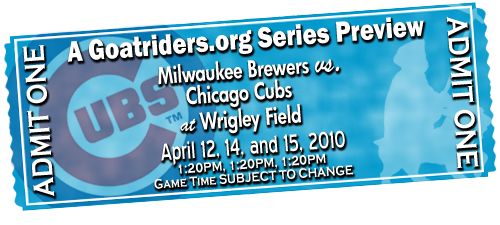 Great news, Cub fans! The first home-stand of the season is about to begin!
After falling off to a 2-4 start, the Cubs head home to do battle with their inter-division rivals, the Milwaukee Brewers. This should be an extremely exciting series of high scoring games, agonizing defeats, and fan-felt rage and frustration. In other words, the Cubs are boned.
Or maybe not. But it's hard to miss the fact that Chicago is already falling into old, bad habits. Last year when they started out looking like a shined-up turd, this blog in general -- and this writer in particular -- took the cautious, realistic approach. I said that, sure, our hitters are struggling, but we all knew that players like Bradley, Soto, and Fontenot wouldn't continue to suck all year long.
Turns out I was sorta wrong about that.
Therefore, while I am extremely confident that Ryan Theriot, Aramis Ramirez, Alfonso Soriano, Marlon Byrd, and Geovany Soto are all better than sub-.200 hitters, and while I have little doubt that any offensive struggles so far are not reflective of how well the team will hit once those guys start putting wood to rubber, I will not play the cautious realist this time. If you want to tap dance on the ledge, and act all butt-hurt every time the team plays like they belong in an American Legion softball league, go right ahead. I've learned my lesson.
...but I'm not really worried just yet.
Anyway, I do not have time to write any of the match-ups for the coming series except for the first one. Either AJ can step in and write the latter two, or I'll do it when I get home tonight. But here's what's relevant to today:

The Match-Ups
Ryan Dempster (0-0, 1.50 ERA) vs. Doug Davis (0-0, 9.00 ERA)
If ever the Cubs had a chance to a) shut down their opponents and b) explode offensively, then today is the day. Dempster is probably not worth his big ol' contract, but he's got some good games left in his surgically-fortified arm.
Doug Davis, meanwhile, is 15-22 in his last 2 seasons, hasn't gotten his ERA to below 4 since his last tour of duty with Milwaukee back in 2005, got his ass kicked royally in his first game of the season, and is cruisin' for another bruisin' tonight against a hurting, hungry Cubs offense.
We'll get you the other match-ups for the series later today. Feel free to visit us again.
Sponsored by Coast to Coast Tickets, where you can find tickets to Cubs baseball games and more -- including Chicago White Sox tickets!