Game Recap: Cubs 9, Brewers 5 -- Xavier Nady and Ryan Dempster deliver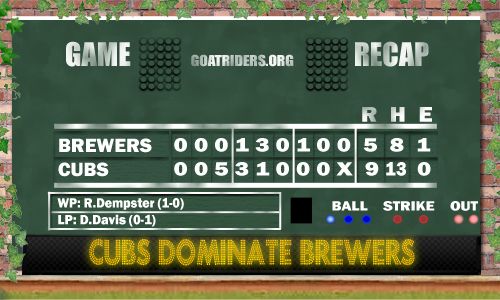 Just when we think that the offense is a shell, the Cubs delivered an epic opening day victory against Doug Davis and the Brewers. But before we get too excited -- it was Doug Davis. And the Brewers. Just sayin'.
Offensively, the Cubs took the game thanks in part to a solid, all-around thrashing of Doug. Ryan Theriot finished the day with a hit and a walk. Marlon Byrd went 3 for 5, raising his AVG to .208. Aramis Ramirez delivered his second homerun of the season in the 4th, a 2 run shot that more-than put the game out of reach. Even Alfonso Soriano collected 2 hits behind Xavier Nady, who went 2 for 4 with a 2 out, 3-run homerun in the 3rd inning.
All told, the Cubs collected 13 hits en route to a massacre at Wrigley. Not that Ryan Dempster didn't try his best to cost the team the game.
Clownsevelt managed to pitch into the 7th, but he gave up 5 earned runs and walked 4 in the process. He was mostly effective at maintaining control of the Brewers, except for when Ryan Braun faced him. Braun was responsible for 4 of Milwaukee's 5 runs. Dempster Pwnage. He was effectively relieved by James Russell, Jeff Samardzija, and Carlos Marmol (yes, that's right, Jeffy Spellcheck himself pitched and pitched well).
The Cubs have tomorrow off before resuming play against the Brewers on Wednesday. Look on the bright side, Goat Readers, Chicago is now 3-4.