Game Recap: Braves 16, Cubs 5, dude, WTF?!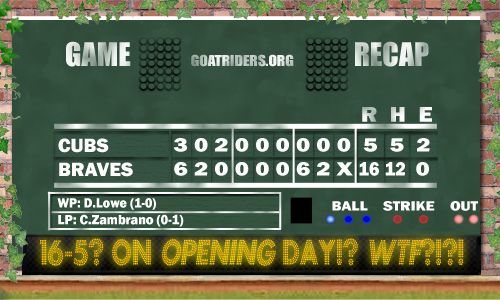 There's nothing quite as thrilling as opening day -- the only day of the year in which the best teams and the worst can all be tied in first place, with their glorious 1-0 records shining like becons of hope to millions of fans everywhere.
Except, uh, that didn't exactly happen today, now did it?
The Cubs, brimming with optimism and the promise of a new year, stormed the field in Atlanta only to get their sorry asses kicked en masse. Royal, serious, severe ass-kicking.
Carlos Zambrano imploded like a third world economy. Jeff Samardijza served up more meatballs than an Italian restaurant. The umpires blew more than a Pittsburgh hooker. Alfonso Soriano looked worse than ... well, a Pittsburgh hooker. Ryan Theriot couldn't buy a hit.
It was ugly. It was also, let's be fair, a series of unfortunate events built on blown calls and near-misses, from McClouth traps to Theriot blunders to Byrd boots. In most circumstances, despite the fact that the Chicago 6 through 1 hitters went 0 for 16, we'd be happy with 5 runs. They would be enough for Carlos to seal the deal. Even with the shoddy bullpen, it would be enough.
Today, it wasn't. Thus, the infighting has begun. We've got reasonable Cub fans calling for Samardzija to be shot back to Iowa from a cannon. We've got Zambrano being called a child. We've got white flaggers and husband-naggers demanding the Cubs be taken off of the Tivo rotation.
All I can say is this: before the start of this game, I said that it meant nothing in the grand scheme of things. There is no "tone" to be set -- the only time World Championships get lost in Game 1 of 162 is when a small airplane crashes on the field during that game and takes out half the starting lineup. The Cubs will not remember this game in two months, or even in two weeks. It's simply true.
Therefore, while the trend has been set for Zambrano blow-ups and Samardizja melt-downs, there's plenty of time for the course to be redirected. Maybe it will be, maybe not, I do not know. But my feelings are no worse now than they were before the start of today -- we knew all along that some players would look like shit while others would shine as if they are golden. We knew the bullpen is going to be troublesome, and we knew that, despite our greatest hopes and wildest dreams, the Cubs would not win 162. So what did we really learn from today's game?
Absolutely nothing. No surprises...yet.