Game Recap: White Sox 4, Cubs 3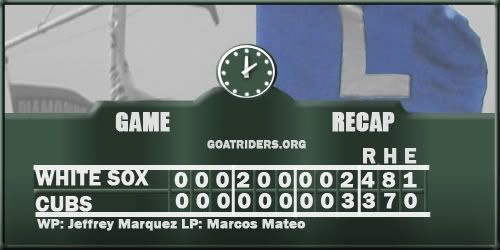 Quick Links: Game Recap: White Sox 7, Cubs 6
Cubs vs. White Sox Series Preview
MLB.com's box score
And so ends our early pre-season experimentation with actual coverage. The Cubs got handled today by the White Sox, although again most of the damage was done to players who won't be pitching for the Cubs anyway.
Today's winner for the White Sox is a guy named Jeffrey Marquez, a rookie who threw 3 strong innings striking out 2, walking 1, and giving up only 1 hit. Over on the Cubs side, Aaron Heilman continued with his campaign to be named a starter, going 3 innings, striking out 3, walking 2, and surrendering 1 hit. So far he hasn't allowed a run this spring.
Mateo got tagged with the loss, although the Cubs probably would've won had Ken Kadokura not surrendered 2 more runs in the top of the 9th. With just 1 out the Cubs managed to load the bases in their final chance, with Ryan Theriot hulking a sac fly into the outfield and Reed Johnson driving in 2 with a single before Richie Robnett flew out to end the game.
More importantly than the final score, Mike Fontenot went 2 for 4 today while playing third base, The Hoff went 1 for 2, and Paul Bako gunned out 2 would-be base stealers. Oh, and every guy who pitched today that will actually be on the Cubs roster in April - Heilman, Gregg, and Cotts - held the White Sox scoreless.
All that out of the way, what you see at the top of this post will theoretically be the Game Recaps image that we use for the rest of the year. (Don't worry, I've got one with the Win Flag too, to be used appropriately.) I think it might be one of the better graphics I've made. In terms of GROTA coverage of Spring Training, there probably won't be another Series Preview until the Cubs play the Yankees, nor another GameCast until they play ones that matter. We'll just have to see how we - and everybody else - feels.